Hundreds of stories for millions of children worldwide
My passion is creating characters and worlds kids can identify with. No good guy is perfect — sometimes you make mistakes, even if your heart is in the right place. Then what do you do? And are you really a bad guy, if your thirst for world domination is actually just a suppressed need for a big hug?
I have created stories for kids since 2007, first as a producer, later as a content manager and finally as a copywriter, mainly for one of the biggest brands in the world. Websites, quizzes, blogs, activities, games, apps, stories, behind the scenes videos, designer interviews, TV commercials, instore magazines and leaftlets for global and local campaigns.
I'm so lucky to be working with funny, creative, smart, talented people who share my mission to make kids laugh. Here are some of my favorite partners in fun:
Min Bedste Bog (My Best Book)
I have published my first children's book "Name & Slynglen" (Your child's name & the Scoundrel) for Min Bedste Bog. It's a story about finding friends and believing in the best in yourself and others. The Scoundrel is alienated by his friends after he suddenly grows a set of long, invisble arms. They're always breaking things and causing trouble wherever he goes. One day he meets a big house wall swift (a bird played by your child) who, due to a scientific experiment gone wrong, has grown way too big. Together they find ways to help each other reach their goals, and form a strong friendship along the way.
Min Bedste Bog is a project very close to my heart. My next manuscript is in my favorite illustrator's capable hands, and I can't wait to present it in early 2017. At Min Bedste Bog, we create personalized books in cooperation with health organizations and child care professionals. Our mission is to empower every child we reach with our books.
Buy the books here:
På dansk: "Navn & Slynglen"
På svenska: "Namn & Busen"
In English: Name & The Mischievous Child"
DOINK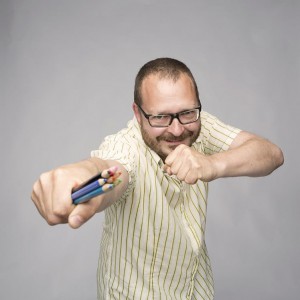 My very funny and talented friend
Dr. DOINK
(AKA Illustrator Mikkel Stubbe Teglbjærg) is responsible for the illustrations on this website, as well as the illustrations for "Slynglen". He always knows what the characters in my head look like, and he has a unique way of making them all come to life just perfectly. Pay him (and all his fabulous invisible friends) a visit – he's the best doctor I know.